Salted Whiskey Caramel
Cheese: Sheep's Milk Cheese or White Cheddar
You will be amazed by how the fruity yet smokey whiskey finish of this caramel is brought out by a nutty Basque style Sheep's milk cheese or a traditional English Style white cheddar.
Beer & Pretzel Caramel
Cheese: Aged Cheddar
It's a natural—a hearty, aged cheddar as a pair for these salty, crunchy and less sweet caramels.  Add another dimension and try a naturally smoked gouda for a smokey and sweet experience.
Sea Salt Caramel
Cheese: Aged Gouda or Parmesan
The traditional sweetness with a touch of saltiness of these caramels pairs well with an aged gouda or parmesan style.  The naturally occurring tyrosine crystals found in both of these cheeses are reminiscent of the sea salt crystals in the caramels along with the lovely sweet finish of both of these cheeses.
Dark Chocolate Sea Salt Caramel
Cheese: Gorgonzola or Triple Cream Cheese
This decadent caramel pairs perfectly with a rich creamy gorgonzola or a full flavored Triple Cream cheese.  The saltiness of either of these cheeses is a great counterpoint to the deeply rich cocoa flavor of these caramels.
---
The only thing better than a good, savory cheese?  Washing it down with a sweet, decadent caramel!
Patty
Larry's Market

---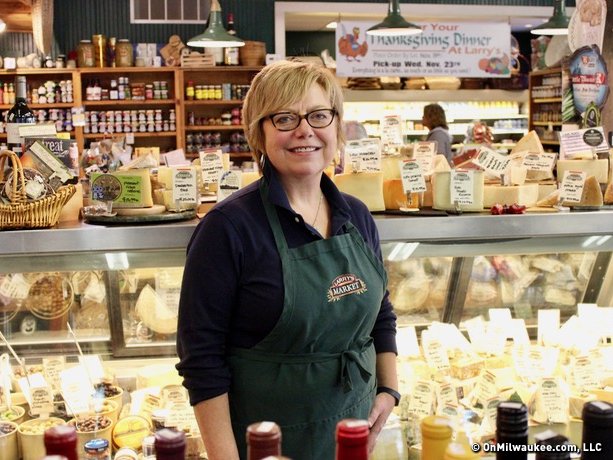 Patty Ehlers Peterson has grown up in the world of specialty food and
cheese
.  Her father Larry purchased Brown Deer Food Market in 1970, changed the name to Larry's Market and shortly thereafter brought the first imported
cheeses
into the state of Wisconsin.  With a rich history of bringing the firsts of many specialty food and drink items to Milwaukee, Larry's Market has always been a leader in food trends.
Patty has been involved in the family business for more years than she cares to admit but
throughout that time she has always had a passion for
cheese
, with a particular fondness for American artisan produced
cheeses
.
Patty has been an aesthetic judge for American
Cheese
Society Annual Competition and Conference, and a judge for the NASFT Annual SOFI awards in New York.
Larry's Market has been featured in M Magazine, Milwaukee Magazine, The Milwaukee Journal Sentinel, Specialty Food Magazine, Gourmet Retailer and Edible Milwaukee.
Read Patty's full story at: Larrysmarket.com
Rebecca is best known for her award-winning artisan caramels and fast-paced entrepreneurial spirit. Since founding Becky's Blissful Bakery, Rebecca has become a speaker, author, educator, and business leader, winning several entrepreneurial accolades and awards. Rebecca has not only grown her business, but has continued to help other entrepreneurs along the way by educating, consulting, and connecting. Her drive to innovate, dedication to her community, and genuine personality have all contributed to a number of successful partnerships with other leaders in the Good Food movement. Rebecca remains grateful and humbled by the growth of the business. She considers it a great honor to be a part of people's joyful occasions and celebrations. Read Rebecca's full story at BeckysBlissfulBakery.com